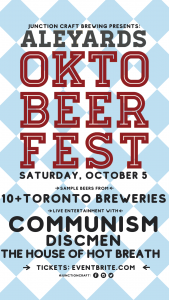 – An "Octoberfest" themed mini-beerfest featuring 10+ local, Toronto breweries.
– Tickets include a free mug and two tokens, each good for a sample, with additional tokens available for $2.50 each (basically $5 pints)
– Live entertainment featuring fun and games from House of Hot Breath and live music with Discmen and COMMUNISM.
– Patio will also feature The Dobro Jesti Little Red Food Truck who will be serving up schnitzel, rice balls, fried dill pickles and more good stuff.
Facebook:
Tickets:
>>>> at checkout, enter the code JCBHOCKEY and get 15% off all ticket purchases <<<<